Military Illustrated JANUARY 2011 (ISSUE NO 272)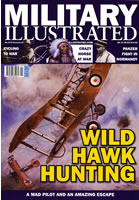 Many readers will know the author from television programmes on martial combat, where his enthusiasm, energy and skill at arms never fail to dazzle. Now this man who has wielded so many swords takes up his pen to record this iconic weapon across five millennia and a dozen cultures. His approach is episodic, choosing a remarkable individual, a particular event or a cultural feature, such as dueling, in order to explore the diversity apparent in the long metal hand-arm. He emphasizes the human aspect with studies of Tutankhamen, Raedwald, King of the Angles, Henry V of England and the great American Civil War cavalrymen JEB Stuart and GA Custer, amongst others, and their personal weapons. There are also some fascinating facts, such as the sword of the Chinese emperor buried with the thousands of protectors of his Terracotta Army: "was discovered still sharp and still gleaming because of its chromium coating." The famous samurai sword is not neglected, and throughout there is careful attention paid to techniques for producing quality steel for the very best of weapons, often visible in the watery marks on the blade. This book is truly a high quality product, beautifully produced and with lavish illustration throughout, many in full colour. As well as pictures of weapons, often in close-up, there is a wide range of pictures showing swords being used for ceremonial purposes, in battle and for sport. A great read and highly recommended.
Matthew Bennett
Ancient Egypt Volume 11 No.4 Issue 64 February/March 2011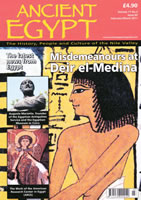 For anyone interested in military history, this is a fascinating book. The author looks at the swords that belonged to famous historical figures. Using this as a framework, the book looks at the evolution of swords, how they were made, how they are regarded as art objects, but, often the most overlooked function of course, at how they were actually used and the lethal practicality of their design. The author, who is an historical weapons expert, has arranged fight sequences for stage and screen, and this practical experience brings a unique perspective to the study of weapons.
The book's contents cover all periods from ancient Egypt to the late nineteenth century. Some of the famous names included are Henry V, Oliver Cromwell and George Washington. I am including a review here as the first chapter is on the swords of Tutankhamun (see a shortened version of this chapter in this issue of AE) and also on the sword of Alexander the Great. This is the first study I have seen on Tutankhamun's swords, which often have warranted only a line or two in previous publications.
Interestingly, the author identifies some of the many 'walking sticks' from Tutankhamun's tomb as fighting sticks. The use of sticks for fighting is depicted on many tomb and temple scenes. In the case of the Tutankhamun examples, it would seem that they have lost their leather hand-guards (leather was not preserved well in the tomb). Well illustrated and written, this is a social and martial history all in one, with at least two chapters that will be of specific interest to AE readers, but whose other chapters are equally interesting and worth reading.
Robert Partridge
Skirmish Living History Issue 86 Feb 2011
Beginning with the sword of Tutankhamun,  Mike Loades investigates a variety of swords up until the American Civil War. Told in an easygoing style, the account details the styles and developments in the sword's design and manufacture and how they were used. 
The Sword (Official magazine of the British Fencing Association) January 2011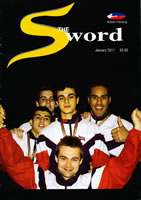 In Swords and Swordsmen fight arranger and historical weapons expert Mike Loades takes the history of the sword and links it to historical figures, tracking this iconic weapon from Ancient Egypt to the American Civil War and presenting each sword in the context of its time. His enthusiasm for the subject comes through on every page as he discusses all aspects of the sword from methods of manufacture to use as objects of fashion. In addition, he outlines the development and character of different fighting styles and tells tales of the sword both in battle and private duel.
Among the swords considered in detail are those of  Tutankhamun, Alexander the Great, King Raedwald, Henry V, Emperor Maximilian, legendary samurai Uesugi Kenshin, Henri IV of France, Oliver Cromwell, George Washington, Lt. Henry Lane (a Hussar at the Battle of Waterloo) and Generals Stuart and Custer. Each sword becomes a prism through which to see a little of the life of the man who once held it.
Chapters are devoted to the rapier and smallsword, in which the author explains how fencing technique evolved to meet the requirements of gentlemen who wished to add the elegant art of fence to their accomplishments. By the time Angelo was appointed fencing master to the future George III in 1760, fencing with foils had become a genteel recreation, far removed from the bloody and dangerous swordplay of earlier times.
For modern fencers, Swords and Swordsmen vividly brings to life the weapons from which our sport derives as Mike Loades shares his passion and fascination for the sword and takes the reader on a journey through history. Meticulously researched and beautifully illustrated by over 200 photographs and 100 line drawings, this book is well worth its comparatively high price of £40. It is published by Pen & Sword Books.
Malcolm Fare
Classic Arms and Militaria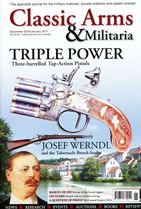 The recent development of the discipline of reconstructive archaeology is greatly to be applauded as it allows researchers to gain a better understanding of the practicalities of use and manufacture of historical artefacts. When it comes to antique/vintage firearms, collectors have published the results of test firings since the 1950s so this technique is not new in that field. However your reviewer is unaware of it having been applied to swords and other edged weapons so this book breaks new ground.
Mike Loades is well known as the presenter of the TV programmes 'Weapons that Made Britain' and 'Weapon Masters', and has appeared in dozens of other documentaries as an historical weapons expert and military historian. As a fight arranger he has choreographed fight and battle sequences for over a hundred television productions, plays and operas. He has also directed several historical documentaries for national Geographic and History Channel. He has lectured and written widely on arms and armour, contributing to both periodicals and books.
Whilst this book is an excellent general history of the development and use of the sword, the author devotes individual chapters to studies of surviving swords owned by historical personalities. It starts with the khepeshes of Tutankhamun and ends with the two swords of the American Civil War's two greatest cavalry generals J.E.B. Stuart and George Armstrong Custer.
It is written with great passion and the author's love of swords is apparent throughout. This enthusiasm is tempered by thoughtful observations based on practical experience. Accepted wisdom is routinely challenged in a thought provoking and persuasive manner. For example, Mr Loades maintains that the 1796 Pattern Light Cavalry sabre was the best sword ever issued to cavalry and that the much-vaunted 1908 Pattern was no more than a short lance. Only someone who has handled both in simulated combat situations is in a position to make such a bold assertion.
Swords and Swordsmen is bound to delight anyone who loves les armes blanches. Highly recommended."(Classic Arms and Militaria – Dec/Jan 2011)