Mike Loades – Director
Mike specialises in high-end, scripted, drama reconstructions for historical documentaries and has directed several 60 minute films, broadcast on History and National Geographic channels, as well as for the National Parks Service in the USA. He also writes and directs punchy short-form documentaries and has directed several dozen of these for the video games industry, as well as some for the BBC.
Experienced with directing both small and large crews, and with a range of cameras, from the Red to the Phantom, Mike delights in composing shots with jibs, dollies and gimbals. He likes to keep the camera moving, choreographing it as another player in the scene.
He is practiced with night shoots, interiors and studio work, including green screen, as well as having experience shooting in a wide range of landscape locations.
Mike has worked with actors for over thirty years, both in the theatre and on screen. He taught in several drama schools in London for many years and he has worked extensively with re-enactors. He knows how to tune a performance from the professional and how to coax one from the untrained. His years of experience as an action arranger, choreographing large-scale battle scenes, means he is also adept at directing complex crowd scenes and creating interesting background action.
His specialised knowledge of horses and action make him the ideal choice of director where these elements are required but he is equally at home directing intense psychological drama. His wide knowledge of history ensures attention to detail and an authentic period feel.
Mike is experienced in many aspects of production both on screen and behind camera. He is aware of every department's needs and their potential to contribute to the overall picture and takes equal care to work with the art department, wardrobe and make-up as well as the camera crew, sound and the talent. He always has ingenious solutions to maximise screen value on tight budgets.
---
THE MAKING OF WELLINGTON – THE LINES OF TORRES VEDRAS
History Hit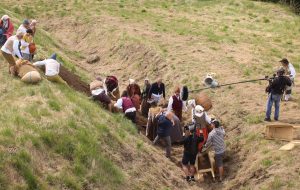 Mike wrote, produced, directed and presented this 40 minute film about the parallel chains of mutually supporting forts that Wellington had constructed across the neck of the Lisbon peninsular to defend the capital city against invasion from Napoleons armies. Filmed on location in Portugal, it tells the story of how the 120 + forts were constructed, using 7,000 Portiguese labourers, how it was served by a network of roads behind the lines and an innovative telegraph system, devised by Wellington. It chronicles Wellington's withdrawal of his army to behind the Lines after the Battle of Buçaco and his scorched earth policy for 200 km north of the Lines, which saw 300,000 Portuguese civilians displaced from their homes. It tells the story of the guerrilla fighters and what happened when the French army were finally confronted by 'The Lines'.
---
THE MAKING OF WELLINGTON – THE BATTLE OF VIMEIRO
History Hit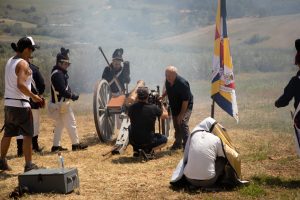 Mike wrote, produced, directed and presented this 30-minute film about the first French Invasion of Portugal in 1807 and the subsequent Battle of Vimeiro in 1808, in which an Anglo-Portiguese army under the command of Sir Arthur Wellesley (later to become the Duke of Wellington) was victorious. Filmed on location in Portugal.
---
AGE OF EMPIRES IV
Relic Entertainment / Microsoft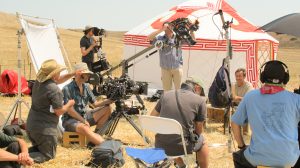 Mike wrote, produced and directed a series of mini-documentaries, called Hands-on-History, that have been embedded within the latest version of this classic RTS game.  He conceived and outlined over 40 ideas for consideration, of which 27 were selected for production. These mini-documentaries focus on details of historical life from a variety of cultures and epochs, some related to military history; others showing crafts process and aspects of everyday life. Filmed in 4k HDR and on locations in England, Wales, Poland and California.
---
TIME COMMANDERS (VT inserts)
Lion TV for BBC 4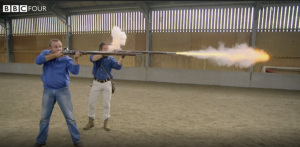 Mike wrote, produced and directed NINE x 2-minute films about various weapons and troop types – from Roman to Napoleonic – featured in this popular battle-tactics game show.
---
SECRETS OF WOOTZ DAMASCUS STEEL
Jordanian Heritage Commission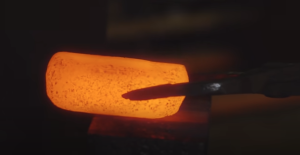 Mike wrote, directed and edited this 50-minute film about two Jordanian swordsmiths who travelled to Florida to meet Al Pendray. Al shared with them the secrets of how to make Wootz Damascus Steel – lost secrets that he had rediscovered from a lifetime of practical experimentation and analysis in collaboration with metallurgist John Verhoeven.
---
MEDIEVAL TECHNOLOGY PARK
Middelaldercentret – Internet Broadcast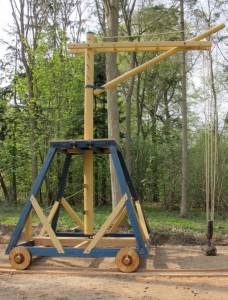 Mike was director, writer and presenter for this 9 minute film about the creation of a historical theme park at the Middelaldercentret, Denmark.
Filmed in one day, it takes a look both at the old medieval centre with its fabulously authentic houses, streets and harbour and at the new, adjacent technology park which features working, large-scale medieval machines and engines. These fantastic contraptions are all faithful replicas of designs that occur in the pages of medieval manuscripts.
http://www.youtube.com/watch?v=4ADd4la0Cw4
---
TOTAL WAR : Rome II  – TRILOGY
Lion TV/ Creative Assembly – Internet Broadcast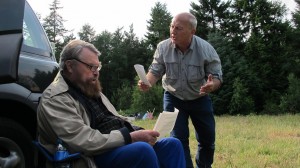 Mike wrote and directed these upbeat, mini-documentary films (c. 10 mins) for a younger demographic in order to promote the release of the video game Total War: Rome II
Crammed with historical information,  they switch between presenter led action and elaborate computer graphics sequences, using specially created graphics from the game model. This use of the 'product' to illustrate the documentary is the only presence that the game has in these films, which are factual documentaries about the Roman Army, intended to stimulate interest in the period.
The Throwing War deals with the slings and arrows, the spears (pila) and artillery of the Roman Army and was presented by Brian Blessed and Gordon Summers.
http://www.youtube.com/watch?v=7-cS_ptYF9I
Legionary Kit examined the armour, weapons and equipment carried by a Roman legionary on the march. It was presented by Mykel Hawke and Adam Schuch de Forges.
http://www.youtube.com/watch?v=f_fpOUQcAac
Perils of Empire referenced the battle of the Teutoburger Forest to illustrate both the limits and imperatives of expansion for a large Empire. Interviewees were Bettany Hughes, Adrian Goldsworthy, Lynette Nusbacher and Mike Loades.
http://www.youtube.com/watch?v=BAjsDrKeFvI
---
A PROPHESY FULFILLED
Film installation at Whitman Mission Visitor Center, WA, USA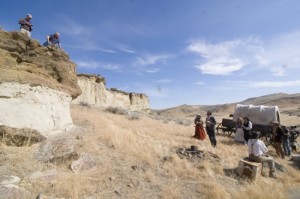 This dramatised documentary for the National Parks Service,  shows on a 10' x 6' screen at the Whitman Mission Visitor's Center near Walla Walla, Washington State. It was filmed on the RED with prime lenses and on location in Oregon and with interiors at Fort Vancouver. It deals with the tragic story of  Marcus and Narcissa Whitman. In 1836 the Whitmans travelled to the Columbia plateau to establish a mission to the Cayuse Indians. Marcus Whitman was also the first person to take a wagon across the Rockies and so open up the Oregon trail. With the flood of emigrants that followed came tensions with the native peoples and the spread of disease. In 1847 the Whitmans, along with 11 others, were killed during a raid on the mission house.
 https://www.youtube.com/watch?v=oFLsOEnKMg0&t=413s
---
USS CONSTELLATION – BATTLING FOR FREEDOM
Broadcast: The History Channel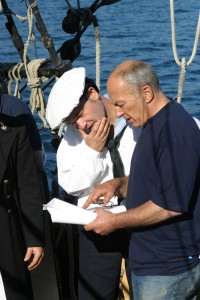 This two-hour drama/doc special was filmed on tall ships off the Cornish coast and tells the story of the US Navy's African Squadron hunting down an illegal slave ship in 1859. It was filmed in HD and includes dramatic helicopter footage of the sea chase. Interior scenes on the gun deck were filmed aboard HMS Warrior in Portsmouth and scenes from the African jungle were filmed at The Lost Gardens of Heligan. It is a disturbing and moving film.
---
"The triumph of this piece is the re-enactments. What Director Mike Loades does in this film is actually transport you back to another place and time" David Zurawick of The Baltimore Sun on WYPR FM
THE HUNT FOR LINCOLN'S ASSASSIN
Broadcast: National Geographic Channel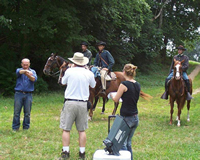 A one-hour special in High Def tracking the manhunt for John Wilkes Booth, after his assassination of Abraham Lincoln. The story, shot largely at night, follows Booth from the shooting at Ford's Theatre in Washington as he tries to escape through Maryland and Virginia. Booth, the most celebrated actor of his day, was a handsome and debonair figure. A staunch Confederate he thought to prolong the war by Lincoln's assassination. Aided by David Herold, an associate who idolised him, Booth was on the run for nearly two weeks. He broke his leg in a fall immediately after the murder, which hindered his ability to ride. He and Herold took a small boat to cross the Potomac River but got hopelessly lost. Finally, cornered in a tobacco barn, he was smoked out and shot. It is a chase movie and a portrait of a man who had it all and then threw it all away.
---
THE PLOT TO KILL REAGAN
Broadcast: The History Channel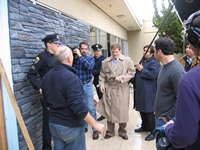 A one-hour special filmed in HD. The story centres on John Hinckley Jnr and his obsessions with Jodie Foster, the film Taxi Driver and guns. It chronicles his gradual mental deterioration in the months preceding his failed assassination attempt on President Reagan in 1987 and includes recreated scenes of the shooting which were intercut with archive footage. It is an intense and dark psychological drama.
---
THE PLOT TO KILL JESSE JAMES
Broadcast:  The History Channel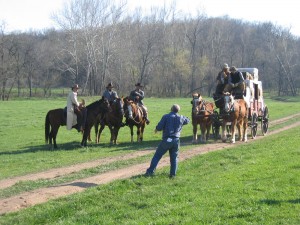 A one-hour special in HD telling the story of Bob Ford – the man who shot Jesse James. Here is the hero of popular imagination – Jesse James, the outlaw – a man with charismatic dash. There are posse chases, stagecoach hold ups and bank raids. But here is also the dissolute and degenerating Jesse. Jesse the bully and Jesse the egotistical tyrant who so oppressed the young Bob Ford, that Ford's adulation and respect gradually metamorphosed into resentment, jealousy and hatred. After the assassination, Bob and his brother Charlie were pardoned, by pre-arrangement with the Governor, but they felt the sting of public opprobrium. Charlie Ford committed suicide and Bob's fortunes sunk to an ever lower ebb until he, too, was shot in an act of vengeance.
---
WARRIOR QUEEN BOUDICA
Broadcast:  The History Channel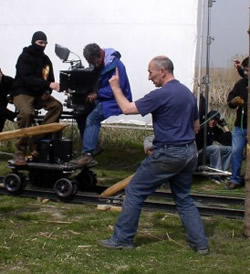 Mike was Second Unit Director and Action Arranger on this two-hour High Def special, when it filmed in Romania but he took over as First Unit Director for a two-day shoot in the U.K. It tells the story of the Iceni Queen Boudica and her doomed uprising against the Romans in 60 AD.
---
VIDEOS:
Mike wrote, produced and directed these videos in the early nineties. They have been a huge success, winning both critical acclaim and selling many thousands of copies worldwide.
Archery – Its History and Forms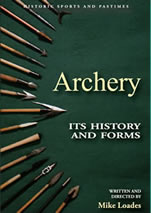 Tracing the history of the bow from Neolithic times to the present day, this video, written and directed by Mike,  has over 30 vignettes of different historical periods, each depicted in meticulous and elaborate recreations. It encompasses archery for war, hunting and recreation.
It also has the distinction of being the very first film to have been filmed in the UK on the then new Digi-B format. All Digital Films took delivery of the first UK camera from Sony and we began filming on this project the very next day.  (72 minutes).
Originally released on VHS in 1995.       Now available on DVD
The Blow By Blow Guide To Swordfighting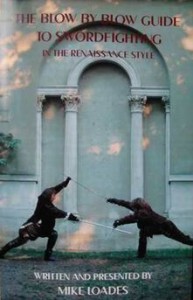 This video, written, directed and presented by Mike, combines historical documentary with practical instruction. It teaches the techniques of Renaissance  combat and looks at the history of swordfighting. Scenes from the modern day classroom intercut with recreated fights and museum treasures. It was released on VHS in 1991 and is no longer available, though second-hand copies can sometimes be found on sites such as EBay. (96 minutes)