What Foreground Action Does
ALL PERIODS   –   ALL CULTURES
RECREATING HISTORY WITH ACTION YOU CAN BELIEVE IN
The featured team is UK based and run by Gordon Summers. He has decades of experience as a fight arranger and in running Foreground Action operations.
Mike Loades is now based in California and has many contacts with capable action performers in the US where he can also provide the same service.
Register of Action Trained Actors
From years of teaching in Drama Schools, we have a network of actors who can fight in a variety of period styles and who also have a screen presence and know how to act! See The Team for a selection of just some of the faces available.
Register of Re-enactment Groups
We have worked with most of the re-enactment groups in the UK, as well as many in the US and can recommend who is best for your production needs. We also know many of the individuals in these groups and their potential for being integrated into the overall action sequence.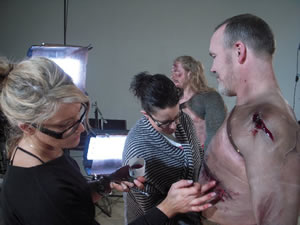 Foreground Action's regular special-effects make-up artiste Amy Miles at work on a wound for a Gladiator sequence.